Aquamat. The ventilating under mattress
The Aquamat underlay mattress: humidity and condensation 100% solved
The Aquamat(Akwamat in Dutch) under mattress is made of natural coconut fibres and pure latex rubber and because of its porous structure provides good ventilation and prevents the creation of condensation water. For a better and much healthier sleeping comfort. Available in different sizes and two kinds of fabrics(white and black).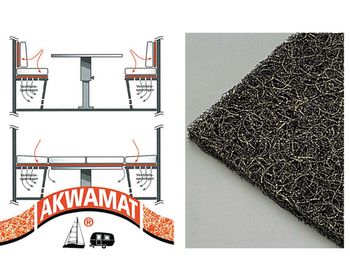 Background information and consumer benefits of the Aquamat under mattress
A healthy environment is largely determined by proper ventilation. And that is certainly true in a boat, caravan, camper or tent trailer. Wood, steel, polyester, are with good reason, impermeable towater. These insulating characteristics cause condensation due to the high humidity levels. The Aquamat underlay mattress is the perfect solution to this problem. The Aquamat allows for natural ventilation of your mattresses andcushions, and prevents moist and mould. There's yet another benefit: The anti-slip surface of the Aquamat mattress prevents your cushions or mattresses from slipping.
We like to call the Aquamat mattress a real 'total solution'.
Simply place the Aquamat mattress underneath your existing cushions or mattresses. The open structure of the Aquamat provides perfect ventilation, keeps your mattress fresh and dry, and makes for a much healthier air quality Aquamat is made of completely natural materials. From coconut fibers and pure natural latex we makemoisture resistant and very resilient mats with an amazingly open structure. These coconut fibres, a byproduct of the food industry, are usually thrown away. Our supplier sustainably upcycles these materials intohigh quality products such as Aquamat / Akwamat. A truly sustainable solution, quite befitting the times we live in. The Aquamat underlay mattress isn't just the best solution when it comes to ventilation, but also the most natural and sustainable solution available today. ESVO's Aquamat is the perfect solution for your boat, caravan, holiday home and any other place where ventilation doesn't come naturally.